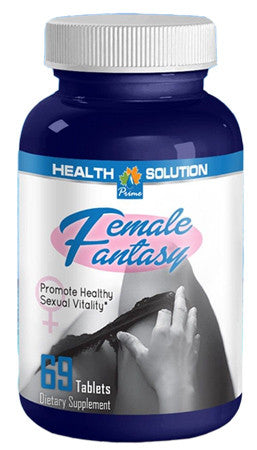 Female Sexual Enhancement Libido Booster Female Fantasy
---
Female Sexual Enhancement 
Libido Booster &
Sexual Stimulant
Product of USA
Boosts libido, Enhances Performance and energize your body. 
Supports female reproductive system
Maximizes sensitivity to labia and clitoris
Offers a deeply intensifying sensation
Helps in reaching repeated pleasurable orgasms
Corrects general debility and fatigue
Improves Libido, Stamina and Performance
Increases sexual arousal and lovemaking desire
100% herbal, affordable and effective
Key Ingredients:
Horny Goat weed
Epimedium, also known as Rowdy Lamb Herb, Barrenwort, Bishop's Hat, Fairy Wings, Horny Goat Weed, or Yin Yang Huo, is probably the most famous of all natural aphrodisiacs. It's a powerful PDE-5 inhibitor, that increases blood flow to the sex organs and increases the sensitivity of the sexual nerves, as well as increasing a woman's desire for sexual gratification.
Tongkat Ali 
Tongkat Ali is a small woody and leafy plant that can be found widely in Malaysia. It has been traditionally used as a tea by women who experience low libido or female sexual dysfunction for over 500 years. Tongkat Ali is known to rejuvenate the vagina by tightening the walls, increasing blood flow to the clitoris and vagina, increasing the length and quantity of orgasms and, above all, increasing sexual need.
Panax Ginseng 
Panax Ginseng is held in high esteem because of its wide use as a medicinal plant. Panax Ginseng aids in reducing stress, improving vitality and boosting the immune system. It's considered an aphrodisiac and works synergistically with the other herbs to increase a woman's need for sex. 
L-Arginine
L-arginine is an amino acid that's important for proper sexual function in both men and woman. The sexual health benefits are due primarily to its role as a precursor to nitric oxide, which improves blood flow to the genitals, leading to increased libido levels, improved performance, and greater sexual pleasure.
What Are The Benefits Of Using Female Enhancement Pills
Low sexual libido is commonly associated with men, but the truth is that it also affects women's lives. A lot of women face this sexual problem, especially when they reach late 40s. Most women are ashamed to disclose this problem and so they end up keeping the problem on their own. If you are one of those women suffering from low sexual libido, then you should consider using female enhancement pills.
The natural solution
Most women resort to using natural remedies, such as including in their diet, aphrodisiac foods, which are bound to increase the libido. Amongst these, one can use seafood or different kinds of wine. These can prove to be effective and women have felt positive effects after taking them. Nonetheless, there is another solution that has proven to be even more effective, and that is the female enhancement pill; these are natural supplements that are guaranteed to bring back the passion and sexual desire.
These pills consist solely of natural ingredients but the combination of herbs is well thought out, with all of these herbs being famous for the great effect they have on the libido. Female enhancement pills have effects in different areas too, as they help to enhance lubrication and remove any pain during sexual intercourse. Moreover, another positive effect of the pill is increasing the blood flow to the vagina, giving women a good general state of the body.
Improves sexual desire/libido
Female enhancement pills are made from different ingredients, which are proven effective in promoting proper blood circulation thereby facilitating blood flow to the female's sexual organs. It also contains ingredients known to stimulate hormones thereby making a woman sexually active. As a result, a woman will have increased libido, better sexual endurance, and stamina.
Improves intimate relationship
Love, respect, trust, and understanding are the essential elements of a healthy intimate relationship, but you should not disregard the importance of sex. It is a proven fact that sex can significantly affect the relationship of couples. Sexual intercourse strengthens the relationship and if you fail to satisfy your partner in bed, then you are literally putting your relationship at risk. If you are taking female enhancement pills, you can definitely go a long way in pleasing your partner. Healthy sexual relationship is one of the important keys in any intimate relationship.
Female enhancement pills are cost effective
There are so many female enhancement products to choose from, but if you are searching for an efficient and cost effective supplement then you can never go wrong with female enhancement pills.
The truth is that female enhancement pills will change your life for the better and you should go right away and find the pills.
*These statements have not been evaluated by the Food and Dug Administration. This product is not intended to diagnose, treat, cure or prevent any disease.
---
Share this Product
---
More from this collection