Femvigor Female enhancement increase your sexual desire
---
Femvigor is herbal capsule containing the extracts of five traditional herbs, which are immensely useful to increase sexual desire in female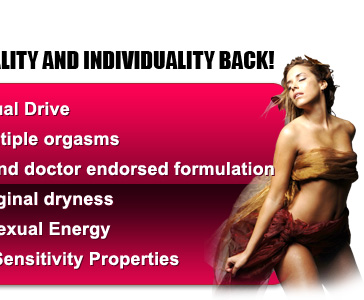 Boost your sexual appetite with Femvigor!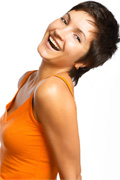 Lack of libido messes with a female's moods and thus creates tension in her relationships. There was no therapy that could help to boost her sexual appetite. Irritated by these drastic changes in her sexual urges she tried out other alternatives. Many females tried water therapy, used personal lubricants and even changed their laundry and bathing products. They also took efforts to balance their diets but to no avail.
You too must have tried all or most of the remedial measures. Has it produced any change in your condition? Probably, it has not! These methods are only superficial. They temporarily relieve you. They DO NOT return your sexual desire. So, once you stop using them you will be back to your distressed state.
What needs to be done is to choose something that works on your hormones and corrects this condition at the roots. Femvigor arouses the estrogen-activity in your body and effectively works up your sexual desire. This is the only pill in the market that intensively tackles dryness of vagina.
Femvigor - The preferred companion of
thousands of women
Femvigor has helped thousands of women in the absence of female sexual enhancement drugs. Many women started using Femvigor as it helped them enhance their interest in sexual activities and also eased the dryness of vaginal tract. It has thus made its way into women's most preferred lists, since the last four years.
It is still chosen over other female sexual enhancement products as, in addition to the above features, it revitalizes the decreased energy levels of a female body. It gives quick and effective results as well as takes care of sensitive and delicate areas of the female reproductive system.
A large number of women followed a consistent course of Femvigor as advised by their doctors. Women have also experienced the bliss of many orgasms with Femvigor. It helps a woman to completely enjoy a sensuous sexual intercourse.
Ingredients Profile:
Femvigor Capsule for Female Libido Enhancement 
Femvigor is a proprietary blend of time tested herbal ingredients added in extract form and formulated in a capsule dosage for ease of use and thus improve efficacy. Femvigor is polyherbal capsule containing the extracts of five traditional medicinal herbs, which are immensely useful to increase sexual desire and sexual response in normal as well as sexually hypoactive females.  
It has been specially designed from the experiences of Ayurvedic practitioners and well supported by a detailed review of traditional texts and screening of various herbs of Ancient Indian medicinal system (i.e. Ayurveda). 
Composition: Each Capsule Contains Extracts :
Indian Kudzu (Pueraria tuberosa):
Indian Kudzu is an aphrodisiac, rejuvenator, vitalizer and also increases breast milk in nursing mothers . Due to its estrogenic activity, Indian Kudzu increases vaginal lubrication, clitoral sensitivity, and overall sexual response in females. Indian Kudzu acts on cholinergic, GABAnergic, adrenergic and serotonergic systems. It helps to relieve anxiety and depression and improves the sexual function in males as well as females.
Indian Spider Plant (Chlorophytum arundinaceum):
Chlorophytum arundinaceum has been used as an aphrodisiac and libido enhancer in various aphrodisiac formulations. It is also used as tonic to strengthen the body. Chlorophytum arundinaceum helps to reduces stress and improves the sexual performance .
Musk Mallow (Hibiscus abelmoschus:
Hibiscus abelmoschus, which is also known as Abelmoschus moschatus is a potent aphrodisiac. It possesses anti-infertility property. Abelmoschus moschatus contains a naturally occurring flavonol called 'Myricetin', which has anti-oxidant and cytoprotective properties. Abelmoschus moschatus helps to decrease the depression and anxiety and also improves sexual performance and libido in females. Abelmoschus moschatus plant has been used for menstrual complaints (like pain etc.) and for unspecified female complaints. .
Licorice (Glycyrrhiza glabra)::
Licorice has been used traditionally as an aphrodisiac, vitalizer, and as a tonic for memory, voice and eyes. It contains saponin called Glycyrrhizic acid and phytoestrogens like dihydrostilbene, gancaonin R which bind to estrogen receptors. These substances act like estrogen and thus increase vaginal lubrication, clitoral sensitivity, and overall sexual response in females. Research studies have shown that Licorice enhances functions of nerve cells, relieves anxiety and depression and thus improves self esteem, sexual drive and overall sexual performance in females. It also increases microcirculation, prevents atherosclerosis and thus helps to increase blood flow at clitoris & other parts of the female genitalia. Licorice acts as an immunomodulator, an antioxidant and rejuvenator. It helps females to fight against heart disease, cancer and other chronic physical diseases affecting the sexual response .
Spanish Pellitory (Anacyclus pyrethrum):
Anacyclus pyrethrum is widely recognized as a rejuvenator and a tonic . Anacyclus pyrethrum improves the sexual life due to its libido enhancing property. It helps to improve the sexual performance in females. Anacyclus pyrethrum acts as a stimulant and also helps to deal with female gynacological disorders like amenorrhoea etc. Anacyclus pyrethrum acts as anti-stress, adaptogenic and immunomodulator .
How ingredients work : 
Increases female sexual desire

 due to presence of traditional aphrodisiac herbs .
Provides 

estrogenic effect,

 which leads to increase in sexual desire, genital lubrication, blood circulation, clitoral sensitivity and ability to achieve orgasm.

Improves brain function by acting on cholinergic, GABAnergic, adrenergic and serotonergic systems

. 

Nourishes and regenerates the nerve cells 

also helps to 

relieve anxiety

 & 

depression.  

It helps to improve self esteem and sexual response in females.
Acts as an 

antioxidant

, 

rejuvenator

 and as an 

immunomodulator

 thus helps body to fight against physical diseases.




FAQs




What is Femvigor?

Femvigor is a capsule that effectively helps to overcome Female low libido and vaginal dryness. The potent ingredients of FemVigor ensures that a dry vagina and a low libido are a thing of the past.




Can I use this product?

Do you suffer from low libido or dryness in the vagina? Have you felt that your interest in sex is waning? If your answer is yes to any of the questions above, then this pill is for you. FemVigor is a powerful combination of the very best herbs that work effectively to get rid of female sexual problems effectively and effortlessly.




Is it safe?

FemVigor has been prepared with the foremost care and detail. The herbs that went into the preparation of this product are the safest and most renowned. We follow stringent International standards in safety and hygiene in the preparation of our products.




What are the ingredients?

Please refer to the 'Ingredients' section to know more about the effective ingredients that form the vital core of FemVigor.




What is the dosage?

1 to 2 capsules twice daily orally after meals with water or as directed by the physician.




What if I miss a dose?

If you have missed a dose, then take it as soon as you remember. Follow the course in a disciplined manner to achieve strong and permanent results.




Indications

i. Balya (Tonic). 
ii. Vajikarna (Aphrodisiac). .




Safety aspects

The safety of the ingredients used in Femvigor Capsule has been established in Ayurvedic classical texts books. Hence Femvigor Capsule is generally considered safe for human use in recommended dosage. .




Precautions / Contraindications

1. Do not use the Femvigor Capsule if you are allergic to any of its ingredient. 
2. Femvigor Capsule is not recommended for the use in pregnant and lactating mothers and
   girls below 18 years of age. 
3. Femvigor Capsule is not recommended for the use in women suffering from acute serious
   illness. 
4. Femvigor Capsule is not recommended for the use in women having altered kidney
   functions. 
5. Avoid overdosing.
---
Share this Product
---
More from this collection