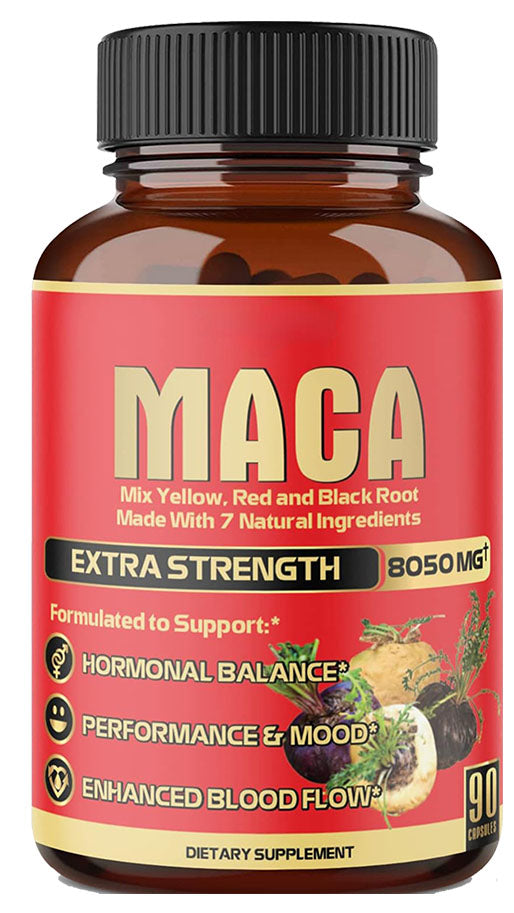 Maca Root Capsules 8050 mg - male enhancer - Performance & Mood Supplement - Enhanced Blood Flow 3 Months Supply
---
Maca has been used for centuries to enhance fertility and sex drive, and there's research to back it up. In a 2002 study, maca was proven to increase sexual desire in men, while a 2008 study showed it decreased sexual dysfunction in postmenopausal women.

In a smaller 2001 study, daily consumption of maca over a four-month period improved semen production in nine men, while a 2006 study showed increased sperm count in rats.

It's not all about sex, though. Maca has also been shown to reduce blood pressure levels and symptoms of depression in postmenopausal women.

As if that wasn't enough, research has shown that maca has mood-boosting, anxiety-easing, and energizing properties. How many more reasons do you need to add this to your daily routine?
Maca benefits

increases sexual desire
improves semen production
soothes symptoms of menopause
improves mental health
Highest Strength Per Serving - 8050 mg Per Day: Before you choose a Maca Capsules product. You must know what you are getting. Many brands use the incorrect dose per serving. Maca Capsules offer 8050 mg of Maca Extract and others per day. The highest concentration is available in the market. Only one capsule daily. Three month supply in 1 bottle!

Maximum Strength For Maximum Results: To get the maximum out of your body. Maca Capsules 8050 mg with other herbs in each capsule. As you have known, higher concentration means more excellent absorption and increased effectiveness. Our superior maca root gets you the biggest bang for your buck, getting you more maca per capsule than any other supplement out there.

Maximize  Absorption: With Ashwagandha, Ginseng, Tribulus Terrestris, and others. Only 1 capsule daily. You are supplied as three capsules compared with others with the same strength. It is designed to support quick response to performance & mood Supplement. Perfect for busy professionals and anyone dealing with ongoing regulates to supports reproductive health natural energizer.*

 Trusted Quality: Ingredients are extracted naturally of chemicals. We utilize the most modern patented extraction methods, bio-engineered extraction process technology, to maintain its purest composition-international third-party tests, non-Gmo, 100% vegan.
Ingredients:
Maca Root, Ashwagandha Root, Ginseng Root, Tribulus Terrestris, Shilajit Powder, Shatavari Powder and Black Pepper.
As of any supplements. Check with your medical professional if you have health conditions before taking.
---
Share this Product
---
More from this collection