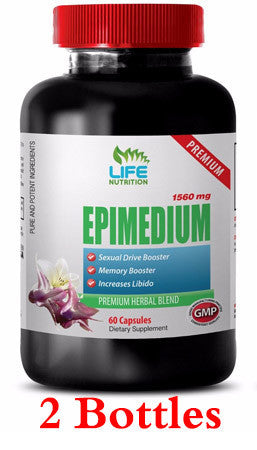 Sexual drive booster libido booster natural for male and female 2 bottles
---
Epimedium 1560mg
Premium Herbal Blend 2 Bottles
Promotes Graceful Aging.
Stimulates Libido, Balances Hormones.
Soothes Sore Joints, Aphrodisiac.
Anti-Aging Properties, Sexual Booster.
Memory Enhancer, Body Building And Sports.
Women Sexual Health, Improve Your Heart Health.
Strengthen Your Immune System, Reduce Stress.
Lower Blood Sugar Levels, Lower Cholesterol Levels
Increase Vitality And Energy.
Lower Blood Pressure, Improve Memory.
2 Bottles, 120 Capsules
Made In USA

Have you been thinking about sparking up more intimacy in your relationship? Maintaining a healthy sex life can be a challenge. Stress from work, becoming new parents, health issues, and financial concerns are just some of the everyday demands that can cool desires. If you are looking to bring back some of the lost heat in the bedroom, Epimedium 1560mg may be exactly what you are looking for this Valentine Day.
Epimedium Background and Benefits:
Epimedium, also known as Yin Yang Huo or Horny Goat Weed, is a powerful remedy in Traditional Chinese Medicine and has been used for thousands of years to promote male potency, libido, and as an aphrodisiac. Modern Chinese herbal medicine. Epimedium is used to help menopause in women often combined with Morinda. It is officially listed by the Chinese Academy of Medial Sciences as one of an elite group of herbs that slow down aging and promote longevity. Perhaps even more important have been the recent discoveries that Epimedium has powerful immune-modulating activity. It is also known to alleviate fatigue and remedy adrenal exhaustion and stress. It increases blood flow to the genital area thus enhancing sexual function and awareness. It also lowers blood pressure and nurtures and restores the energy within the kidneys. In women it is known to increase sexual desire.
Horny Goat Weed Increasing Male Sexual Stimulation:
Horny goat weed extract is a natural product of the plants in the Epimedium genus, with a history of use in Eastern medicine to relieve fatigue and weakness in the back and knees. The Epimedium genus contains a number of leafy green plants primarily used for groundcover. Within the sixty plus plants in the genus, Epimedium grandiflorum and Epimedium sagittatum are the two members most commonly associated with horny goat weed. Icariin is the main active molecule in horny goat weed extract. Icariin inhibits the activity of the protein phosphodiesterase type 5  this initially sounds insignificant, but the action plays a major role in increasing male sexual stimulation.
Epimedium and Women Sexual Health:
Where the effects of Icariin on Men sexual health and performance is well known and documented, the administration of icariin can also improve the sexual health and performance of women by a huge margin, mostly owing to the production of Nitrous Oxide that improves the flow of blood to the sexual organs, clitoris and vagina. The strength of the icariin supplement for women, however is recommended to be much lower than men. The increased blood flow to the genital area (clitoris for women), helps increase the likelihood of reaching an orgasm. Horny goat weed supplements for women also help modulate the levels of the stress hormone, cortisol, as well as testosterone, which may help improve the mood.
Maca Sex-Enhancing Properties:
Maca is an interesting little root. The Peruvian plant only grows in the most inhospitable parts of the Andes, yet it becoming popular worldwide as an aphrodisiac and fertility booster. Maca is very different from other types of energizers on the market. It contains no caffeine, no processed sugar and nopharmaceutical energy enhancers. What that means is that Maca boosts your energy in a balanced and sustained manner and that it never stresses your adrenal glands like the aforementioned energy enhancers. Maca is often termed as Peruvian Ginseng due to its natural stimulating qualities that are similar to the benefits found in the commonly known ginseng-related herbs. Unlike powdered rhinoceros horn, dried tiger penis, and most other traditional aphrodisiacs, maca actually seems to work. There some evidence to back up claims of its sex-enhancing properties.
Tongkat Ali Effect For Sexual Performance:
Tongkat Ali is native to Malaysia, lower Burma, Thailand, and Indonesia. Eurycoma longifolia, commonly referred to as Tongkat Ali, is primarily known for its sexual enhancing features. Grown exclusively in Southeast Asia, the natural testosterone booster is credited for increasing ones libido, muscle mass, energy levels, athletic performance, improving workout recovery time. The root of tongkat ali has been used to increase testosterone levels for a very long time indeed. It contains chemical compounds that studies have repeatedly shown can increase testosterone levels. An increase in testosterone has many beneficial knock-on effects for sexual performance, muscle growth and semen production. The main nutrients to the roots of Tongkat Ali is the power of sexual energy for men and women that are associated with increased sexual desire. Many studies done by medical professionals and members of local and foreign researchers on this matter. Study effect of Tongkat Ali roots practitioners have continually found that blood flow is smooth and does not have the nerve pain as well as having a body energy is amazing.
Saw Palmetto Impact On Muscle Mass & Sexual Health Of Men:
One of the more recent developments in the saw palmetto debate is its impact on muscle mass. Many bodybuilders and people engaged in serious gym time have turned to saw palmetto as a workout supplement. Although research into saw palmetto impact on muscle mass and development is still ongoing, early reports do show a correlation between the two. It makes sense, given saw palmetto impact on testosterone in the body, which is responsible for muscle mass increases, but it should only be taken in moderation. Saw Palmetto (Serenoa repens), which men have used for centuries to improve and enhance their sexual health. Today, the typical men multivitamin contains Saw Palmetto as a key ingredient to support the sexual health of men.
Boost Sexuality Capsules - Epimedium 1560mg - Panax Ginseng
Supplement Facts:
Horny Goat Weed (herb powder) - 1000mg
Maca (herb powder) - 250mg
Polypodium Vulgare (herb powder) - 20mg
Saw Palmetto (herb powder) - 100mg
Panax Ginseng (herb powder) - 20mg
Mucuna Pruriens (L-Dopa) Extract - 30mg
Tongkat Ali (Eurycoma Longifolia Jack) Extract - 100mg
Muira Puama (herb powder) - 20mg
L-Arginine HCl - 20mg
OTHER INGREDIENTS: Gelatin, Magnesium Stearate, and Silica.
SUGGESTED USE: As a dietary supplement, take two (2) capsules 1 hour before physical activity. Do not exceed two (2) capsules daily.
Serving Size: 2 Capsules, Servings Per Container: 30
Quality Guaranteed: To ensure that our Formula contains best ingredients, we meticulously analyze every batch in our labs to guarantee the highest quality.
CAUTION: Do not exceed recommended dose. This product is not intended for pregnant or nursing mothers, children under the age of 18, or individuals taking prescription drugs. Discontinue use immediately if nausea, sleeplessness, or nervousness occur. Do not take this product if you have a known medical condition including high blood pressure, diabetes, any cardiovascular disorder, heart disease.
*These statements have not been evaluated by the Food and Dug Administration. This product is not intended to diagnose, treat, cure or prevent any disease.
---
Share this Product
---
More from this collection