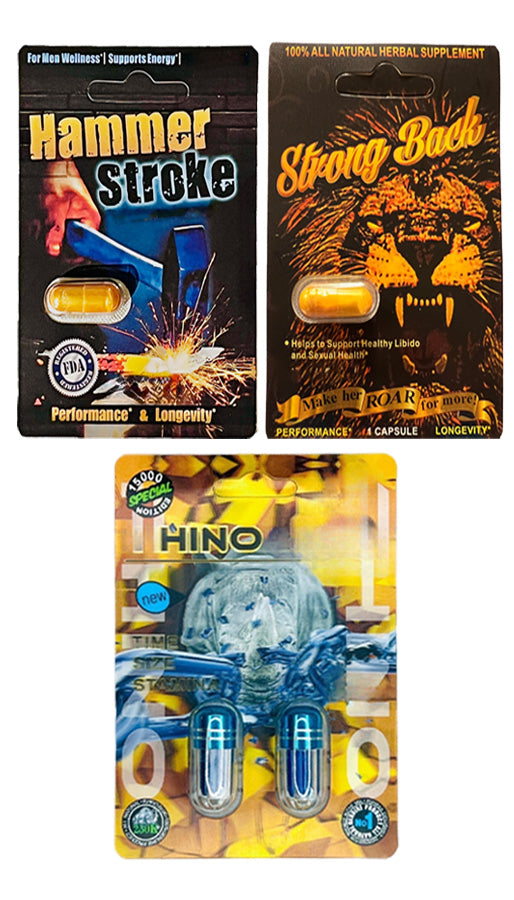 Hard on booster pack for men variety pack - 12 count
---
HARD ON -  Supplement pills for men - Variety pack
4 capsules of each
12 total Capsules





Current customers favorite since September 2023 - Highest repeated customer rate in 

comparison to other similar variety pack
Be sure to perform your best with our Variety Supplement

Hard On Booster

Pack for Men. Get hard and stay hard for longer with this 12-count variety pack. Enjoy a a range of solutions for lasting, harder performance. Leave them wanting more!

Increase stamina, enhance libido, and maintain longer-lasting  

Rock Hard On

 for improved vitality and performance. Get Ready. Get Hard. Be Glad
Introducing the Hard On Ultimate Pack, supports men to achieve and maintain a Steiger hard on, when needed to experience enhanced rock solid hard on and performance . This specially curated variety pack includes three different supplements, each containing four natural powerful pills, designed to provide the ultimate support for men's healthy erections .
Key Benefits and Features:
1. Enhanced Performance: The Hard On Ultimate Pack is expertly formulated to support and enhance your performance, allowing you to reach new heights of solid hard on and support healthy erections.



2. Increased Stamina: Experience the power of increased stamina and endurance, ensuring that you can go the distance and fully satisfy.


3. Heightened Sensations: Premium blend of natural  ingredients helps to increase blood flow, resulting in stronger and more sensitive healthy erections


4. Convenience and Variety: With three different supplements in one pack included, you can try'em all to find the perfect one that suits you best. 
Get your Hard on!


4 capsules of each - 12 total capsules
Shhhh, You made it that far, Here is $3 off coupon for you,
Use coupon code 3off4u . Limited time when you purchase today. Don't tell anyone 😉
---
Also Available in Other Varieties:
---
**Supplements and vitamins we offer are not intended to treat or cure any diseases or medical conditions. It is important to note that these products are classified as dietary supplements, which are meant to support a healthy lifestyle and provide essential nutrients to the body.
---
Share this Product
---
More from this collection